Okay.  I kind of couldn't believe it when there, in my inbox yesterday, sat a message saying "Effesenden Music has been published on Junebug Weddings!"  I'm forever marveling at the beauty and creativity of the weddings we are privileged to perform for but it's something extra special when the national wedding community takes notice as was the case when Junebug Weddings did a spot on this gorgeous ceremony at Hoyt Arboretum in July.
I loved this wedding because as a true Oregonian, all things outdoors and tree related are close to my heart… and then I have this alter ego as a professional classically trained violinist so when the two combine:  playing beautiful acoustic music in a gorgeous Pacific Northwest Forest for people who obviously dig the outdoors… well, I'm a lucky lady.
I have to add, that this photo that Aaron Courter took has got to be the most awesome bridal party shot ever taken.  Love it!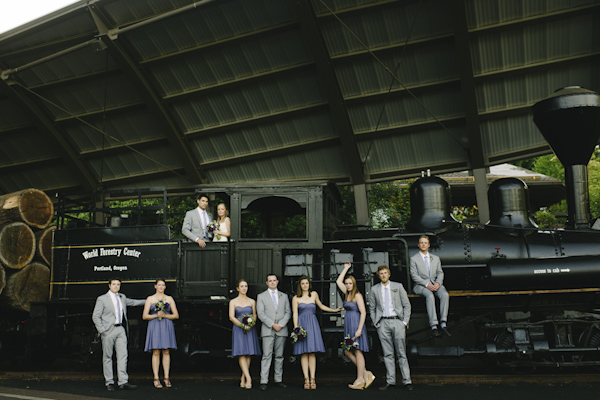 Our playlist for the day included a lot of Americana music in combination with some classic recognizable numbers by Elton John, Sting and the Beatles.  Their processional choice:  James Taylor's Copperline was one of my favorite songs to arrange this summer.  I wish I could put a link here to our rendition but we were not able to obtain copyright permission to stream this particular song… so I'll give you a youtube video of THE MAN himself performing it:
Our ensemble consisted of Violin, Cello and Acoustic Guitar.  One cool thing is that we actually did not use any amplification and the sound still carried beautifully.  I always want the sound to be its best but sometimes it's unfortunate when one is playing in such an organic, natural setting to then have to add chords and cables of the sound system.  For a wedding the size of this one… less than 100 guests, it was just perfect.  I'll be posting some of our recording from the day soon. . .so be sure and check the Listen page on our website if you want to explore the live recordings from our recent weddings.